杭州富阳惠宝汉威贸易有限公司
Correo electrónico:boway@bowaychina.com
teléfono:13801375160
Boway service AD Office electric automatic paper folding machine
Boway service AD Office electric automatic paper folding machine
Precio:USD 800.00-800.00 / unidad
Aceptar el pedido mínimo:Yes
Disponibilidad:500 unidad / El
Lugar original de origen:Shanghai/Ningbo
Descripción del producto
Condition:New
Processing Type:Paper Folding Machine
Place of Origin:CN;ZHE
Warranty:1 Year
After-sales Service Provided:Online support
Product Type:Folding Machine
Brand Name:BOWAY
Voltage:110V/60HZ,220V/50HZ
Power(W):EP-42F:50W;EP-42S:50W;EP-45F:75W
Dimension(L*W*H):65x58x44cm
Weight:28kgs
Production Capacity:1100W
Welcome  to  Boway 
How  to  Choose  Your  Right  Items?
Use - Folding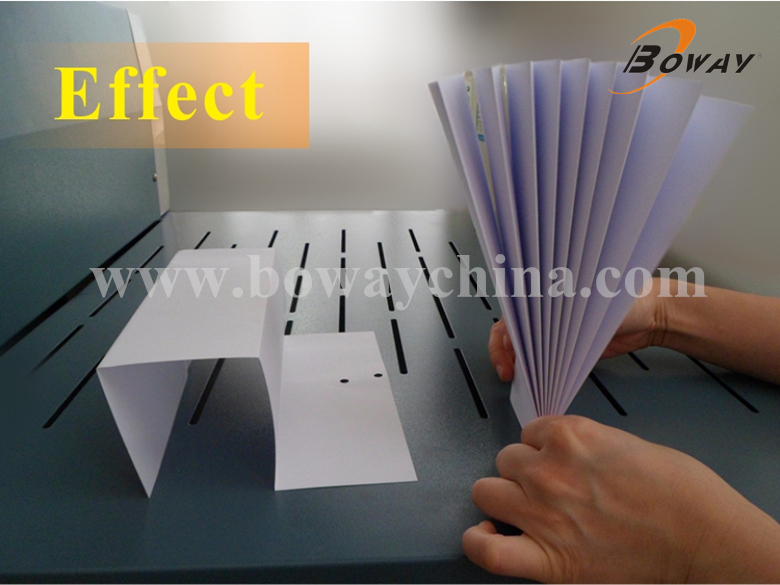 Model:

 EP-42F

 EP-42S

 EP-45F

 Paper size:

 91x128mm(B7) to 297x432mm(A3) or 3.5"x 5.0" to 11"x 17"
 B7 size is for single only, B6 size  cannot be folded into Gate

 Paper weight:

 45-220g/m2 (up to 135g/m2 for single folding)

 Fold type:

 Single, (Folding twice)Letter, Zigzag, Double, Parallel, Fold-out, Gate, Custom

 Folding speed:

 50HZ 7000  sheets
 60HZ 8000  sheets  (A4single  folding)

 3000-9000 sheets

 3000-10000 sheets per  hour

 Power:

 110V/60HZ,220V/50HZ

 Power  consumption:

 50W

 75W

 Machine  dimension:

 65x58x44cm

 Machine weight:

 28kgs

 
♦ Desktop manual paper folder that accommodates up to A3-size paper (EP-42F/EP-42S).
♦ Sets up easily for 6 standard and non-standard folds, with skew adjustments key for accurate and precise folding result
♦ It is ideal choice for reliable, user friendly entry level friction folding machine
♦ Simple to operate: LED readout counter and touch-button function keys
♦ Wide range of simple & complex folds
♦ Depndable three-roller friction feed system
♦ Heavy duty steel construction
♦ Manually set folding positions
♦ Adjustable folding speed (EP-42S/EP-45F)
♦ A fully-featured automatic friction folding machine, with automatic size recognition, digital counter and six preset paper folds(EP-45F)
♦ A built-in micro-computer provides fully electric setup, eliminating tedious manual adjustments(EP-45F)
♦ The folder will automatically sense, set and display the paper size loaded(EP-45F)
♦ Simply choose from six pre-programmed popular folds or create and store custom folds by job (EP-45F)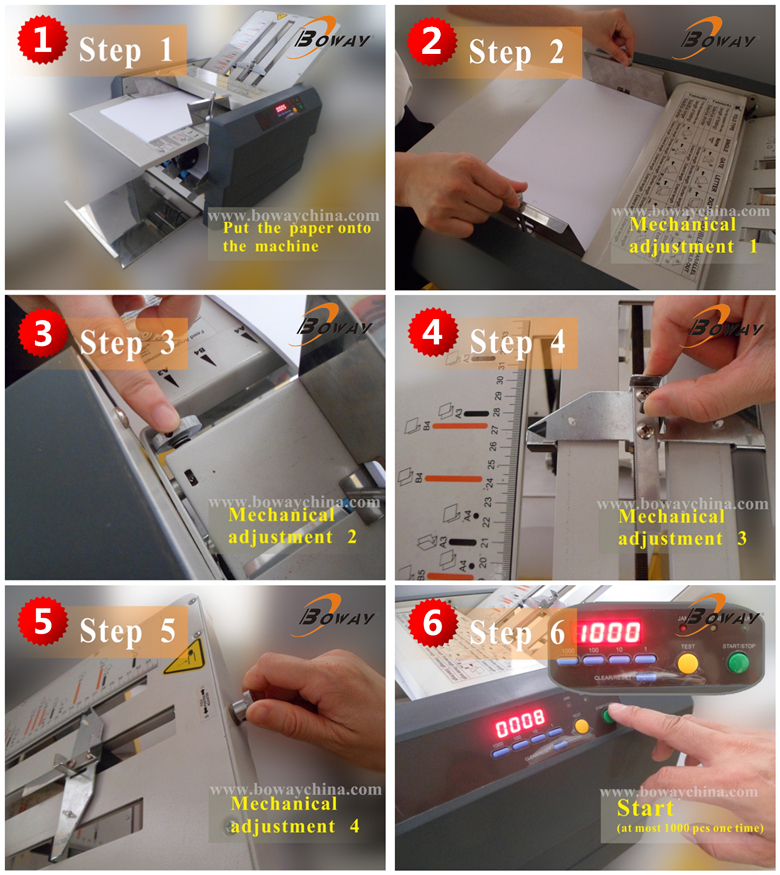 Trading Terms
Terms of payment
T/T, L/C, Westion Union.
Terms of trade
FOB, CFR, CIF
Mode of transportation
By Sea,  By Air
Port of shipment
Shanghai or Ningbo
Rerfence date of delivery

About 15 days, Instant supply

of hot-selling products
About Shipment
Certificate of Fumigation
√
Certificate of Original

CO, FORM A, FORM F, FORM E etc.

Guarantee customer to import goods

at the preferential tariff rate

Certificate of Inspection
√
Documents Authentication
√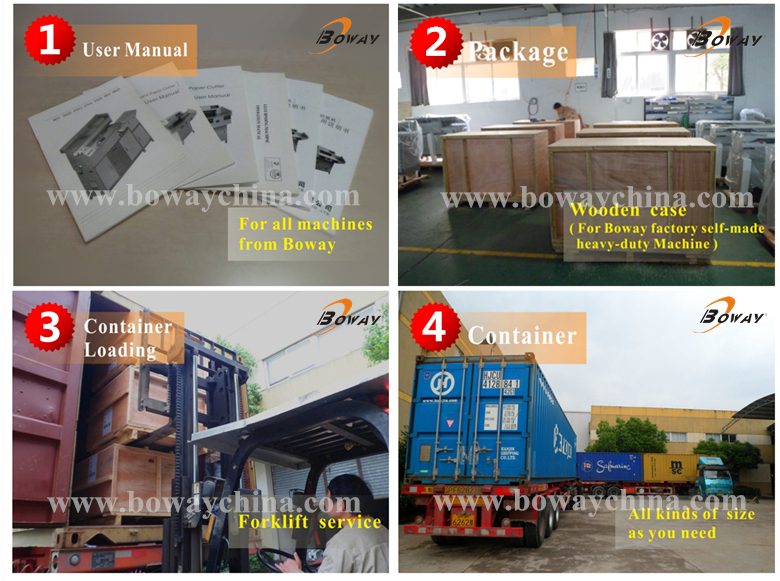 I. Agents Tranining
II. Warranty
We provide one-year limited warranty for all machines from the date of purchase
1. Our warranty covers only those defects which arise as a result of normal use of the product, and the bellows not apply to any:
u       Improper or inadequate maintenance
u       Misusage and mishandling
u       Damaged by a wrong voltage use
u      Physical damage(for example, dropping the parts on the floor or into water, broken case, etc)
2. What is the repair, exchange & refund policy?
Exchange and refund only on big defective units (beyond repair).For buyers' used machines, we only can support repair service.
Repair: We provide free spare parts (just include the main board and motor) within the warranty period. Buyer should provide serial number and photos of defective machines, but buyer should pay the shipment charges and return us the broken parts.
Exchange: If you reported problem to us in one month on arrival of the machine, we accept the exchange. Buyer needs pay the ship back sea freight and the sea freight for new machine.
Refund: If you reported problem to us in one week on arrival of machines, we accept the refund, but we only refund you the payment after receiving the returned goods.
3. What about when one year warranty over time?
We still offer the repair service to you when the warranty time is over, even we can offer you the repair service in the whole life of machine.
4. How to support you when you purchase our machine in first time?
When you meet the problem of our machine under the situation that you are not familiar with our machines.
Do not worry, we can offer:
u        User Manual in English
u        Operation Video
u         Support on-line
u        You can send your technician to our factory to attend the skill training.
Customers  and  Us
FAQ
1.What's the product range?
Post press machine,such as Perfect glue binder, paper cutter, Roll laminator, UV coator machine and
some small office equipment.
2.Are you a manufacture?
Yes, we are in Hangzhou which middle of shanghai and Ningbo
3.What is the minimum quantity for order?
5 pcs or 10000 USD for order.
4.Do you have stock product to sell?
Maybe , It's depend on which machine ,you like? 
5.Do you inspect the finished products?
Yes, Each step of production products will be camed out inspection by QC department before shipping.
6.How do you ship the finished products?
By Sea
By Plane
By courier, TNT , DHL, Fedex, UPS Etc
7.What's the Payment term?
Payment term: T/T before shipment.
We accept payment via the Paypal /Western union/TT, you can choose as you like.
8.What's the delivery time?
Within 15 days after get the payment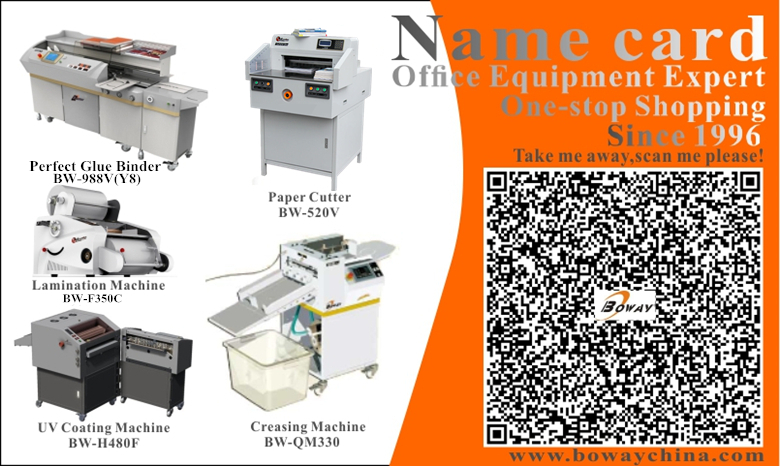 Boway service AD Office electric automatic paper folding machine