杭州富阳惠宝汉威贸易有限公司
Correo electrónico:boway@bowaychina.com
teléfono:13801375160
BW-TOP3400 PVC-P Cloth welding machine specifications
BW-TOP3400 PVC-P Cloth welding machine specifications
Modelo: BW-TOP3400
Precio:USD 1580.00-1650.00 / unidad
Pedido mínimo:1 unidad
Aceptar el pedido mínimo:Yes
Disponibilidad:50 unidad / El
Lugar original de origen:Ningbo or Shanghai
Plazo de entrega:In 20 days. De
Descripción del producto
Place of Origin:CN;ZHE
Arc Current:inquire
Brand Name:OEM
Usage:Banner Welding
Dimensions:41*42*56cm
Pulse Frequency:inquire
Warranty:1 Year
Pilot Arc Current:inquire
After-sales Service Provided:Engineers available to service machinery overseas
Rated Duty Cycle:inquire
Condition:New
Voltage:230v
Certification:CE ROHS
Power(W):3400w
Model Number:BW-TOP3400
Motor Type:inquire
******The pricture and specifications are subject to change without prior notice. ******
******Any question, please confirm with our sales manager.******
Welcome  to  Boway 
How  to  Choose  Your  Right  Items?
This equipment is designed professionally for ,

sealing film

or

foil

and

homogeneous coating

and

PE-coated webbing belt

lap welding that is make in PVC-P,

PE

,

TPO ECB

,

CSPE

,

EPDM

,

PVDF

.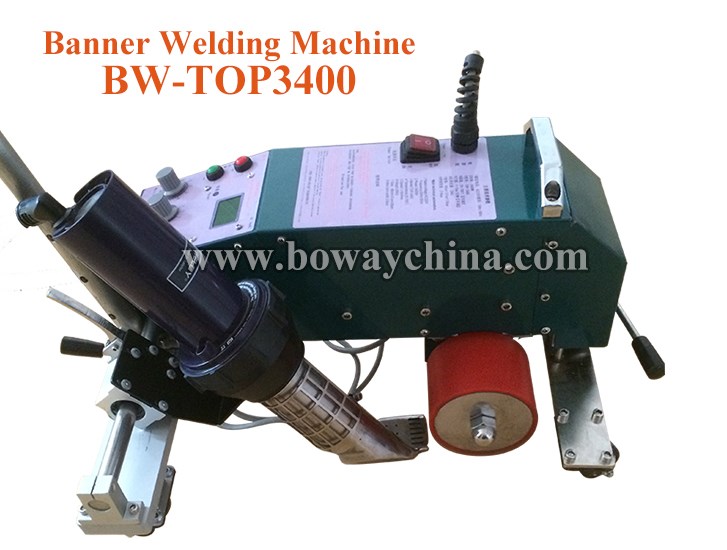 | | |
| --- | --- |
| Product Name | Banner Welding Machine  BW-TOP3400 |
| Certification | CE & ROHS |
| Rated voltage | 230V |
| Rated frequency | 50HZ |
| Rated power | 3400 W |
| Welding temperature | 40-700℃ |
| Welding speed | 0.8-15 m/min |
| Welding thickness | 0.2-3mm |
| Welding width | 40-60 mm |
| Size(L×W×H) | 41*42*56cm |
| Net weight | 21Kg |
♦ Small size, light weight and easy to carry
♦ Digital display function
♦ Adjustable wind speed
♦ Faster welding speed
♦Do not have fold during the welding process 
♦ Laser precision positioning system
♦ Having press-wheel, it is easy to move

Connecting the power supply
Connect power to AC220V,turn on power button
Operation
1.Make the cloth for seaming flat and tight,. take joiner to accurate (about 2-4cm),Fix both ends by tape or glue on ground.  (the ending image) 
2.Set the temperature and walking speed: Connect the power supply, set the temperature and walking speed according to the thickness of the cloth. Temperature and speed is adjustable. As shown (the ending image) 
3.Turning the heating switch (yellow knob), the machine starts to heat up. Wait for 2 minutes,when actual temperature (PV)approach desire temperature(SV),we can start weld.  (the ending image) 
4.Welding positioning. Lap welding pressure working wheels edge must be aligned with the upper edge of the banner, but also aligned with the guide wheel on the side edge of the banner. As below:  (the ending image) 
5. Lifting the handle, making the working wheel on ground,as the show  (the ending image) 
6.start welding: pulling the heat gun to position handle and making the nozzle close to ground then move the nozzle to left so that it can be place a right position, at that time, the welding will work automatic.  (the ending image) 
7.During welding,let hot air nozzle between two overlap pieces. And be make sure hot air nozzle and Rubber wheel walk in straight line.if not,please adjust by handrail.check photo:  (the ending image) 
8.finishing welding: when we finish these work, pull the handle shake, turn right to move out nozzle until stops rotating nozzle upwards and it is locks.  (the ending image) 
9. Turn off the switch: when finished, turn off the yellow knob,shut off main power supply when the PV value is less than 50 degree.then we can turn off the power.
NOTE
For first-time users, you can get a piece of scrap cloth to measure the temperature of the required , test methods are as follows:
Making quickly the cloth next to the nozzle, if there is a burning cloth, it shows the temperature at this time is possible. the effect of welding should be as follows:
1. During operating, if the surface cloth is dissolved and scorched or the cloth are not sticked together, please stop to adjust the temperature or speed.
2. During operating,if the seaming part is not in right position, please stop to adjust fixing position.
3. During operating, make sure clothes are flat so that stick together smoothly.
4. The hot wind of heater cannot touch the press-wheel or the rubber of press-wheel is easy to be burned down.
5. Adjust temperature to zero before turn off the heater.Switch off after 5-10 minutes.
Maintenance:
Take care the nozzle.Use brush to clean if there is dust or block in the nozzle or filter. 
Trading Terms
Terms of payment

T/T, L/C, Westion Union.

Terms of trade

FOB, CFR, CIF

Mode of transportation

By Sea,  By Air

Port of shipment

Shanghai or Ningbo

Rerfence date of delivery

About 15 days, Instant supply

of hot-selling products
About Shipment
Certificate of Fumigation

√

Certificate of Original

CO, FORM A, FORM F, FORM E etc.

Guarantee customer to import goods

at the preferential tariff rate

Certificate of Inspection

√

Documents Authentication

√
I. Agents Tranining
II. Warranty
We provide one-year limited warranty for all machines from the date of purchase
1. Our warranty covers only those defects which arise as a result of normal use of the product, and the bellows not apply to any:
u       Improper or inadequate maintenance
u       Misusage and mishandling
u       Damaged by a wrong voltage use
u      Physical damage(for example, dropping the parts on the floor or into water, broken case, etc)
2. What is the repair, exchange & refund policy?
Exchange and refund only on big defective units (beyond repair).For buyers' used machines, we only can support repair service.
Repair: We provide free spare parts (just include the main board and motor) within the warranty period. Buyer should provide serial number and photos of defective machines, but buyer should pay the shipment charges and return us the broken parts.
Exchange: If you reported problem to us in one month on arrival of the machine, we accept the exchange. Buyer needs pay the ship back sea freight and the sea freight for new machine.
Refund: If you reported problem to us in one week on arrival of machines, we accept the refund, but we only refund you the payment after receiving the returned goods.
3. What about when one year warranty over time?
We still offer the repair service to you when the warranty time is over, even we can offer you the repair service in the whole life of machine.
4. How to support you when you purchase our machine in first time?
When you meet the problem of our machine under the situation that you are not familiar with our machines.
Do not worry, we can offer:
u        User Manual in English
u        Operation Video
u         Support on-line
u        You can send your technician to our factory to attend the skill training.
Customers  and  Us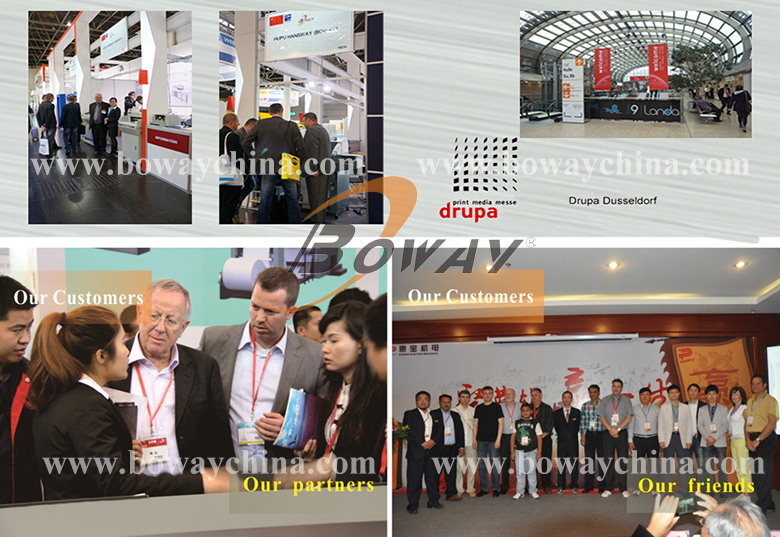 FAQ
1.What's the product range?
   Post press machine,such as Perfect glue binder, paper cutter, Roll laminator, UV coator machine and some small office equipment.
2.Are you a manufacture? 
   Yes, we are in Hangzhou which middle of shanghai and Ningbo
3.What is the minimum quantity for order?
   5 pcs or 10000 USD for order.
4.Do you have stock product to sell?
   Maybe , It's depend on which machine ,you like? 
5.Do you inspect the finished products?
   Yes, Each step of production products will be camed out inspection by QC department before shipping.
6.How do you ship the finished products?
   By Sea
  By Plane
  By courier, TNT , DHL, Fedex, UPS Etc
7.What's the Payment term?
   Payment term: T/T before shipment.
   We accept payment via the Paypal /Western union/TT, you can choose as you like.
8.What's the delivery time?
   Within 15 days after get the payment
  BW-TOP3400 PVC-P Cloth welding machine specifications